With so many wedding venues in NJ to choose from, couples might become a little overwhelmed with so many choices. If you're anything like us at Limelight Entertainment, you want the newest, hottest, best wedding venue in NJ. Search no further, because Buona Sera Palazzo boasts central NJ's newest event space, hosting up to 900 guests with outdoor and indoor ceremony/reception areas.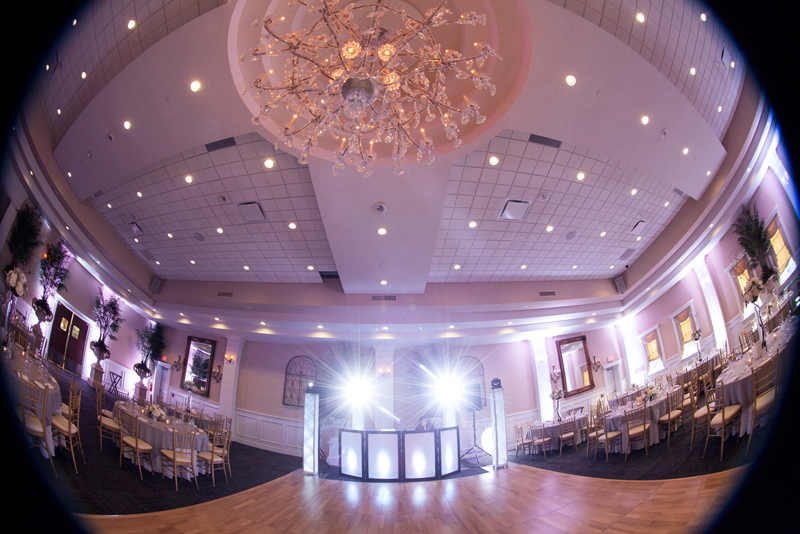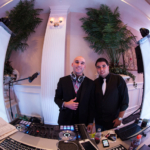 Limelight Entertainment's premiere NJ wedding DJs were on hand to light and entertain Casey and Tyler Moore's big day. With intelligent lighting and uplighting, as well as our wedding DJ and MC, Limelight was able to make an already amazing day, even more over the top for this incredibly perfect couple!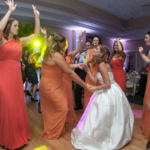 Cocktail hour started with an hour and a half of the couples hand selected songs playing in the background. Yes, I said an hour and a half cocktail hour to start the night off right. And trust me, with all of the absolutely delicious food served at Buona Sera Palazzo, an hour and a half was perfection….. right down to the sausage and peppers station right on their front porch. YUM!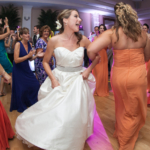 After the amazing "food coma" cocktail hour, Limelight Entertainment's MC introduced the wedding party to perfectly selected songs. The bridal party was brought in and then it was time for Casey and Tyler's grand entrance. And I mean GRAND! They entered from a stage like area up a small set of stairs. The curtains parted and the newest MR & MRS Tyler Moore entered the magnificent ballroom of the Buona Sera Palazzo. They took straight to the dance floor where their first dance was spotlighted with Limelight Entertainments event lighting package.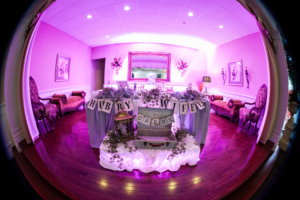 The rest of the night was pure perfection with dancing, dinner, and an extravagant venetian hour filled with delicious pastries and vintage candies. The food at Buona Sera Palazzo is some of the best food we've ever had at a venue. The ballroom is breathtaking. And the staff was super nice, attentive, and professional. Buona Sera Palazzo is a five star NJ wedding venue, so call a five star NJ wedding DJ and have a Limelight Entertainment professional take care of all of your entertainment needs for your big day!