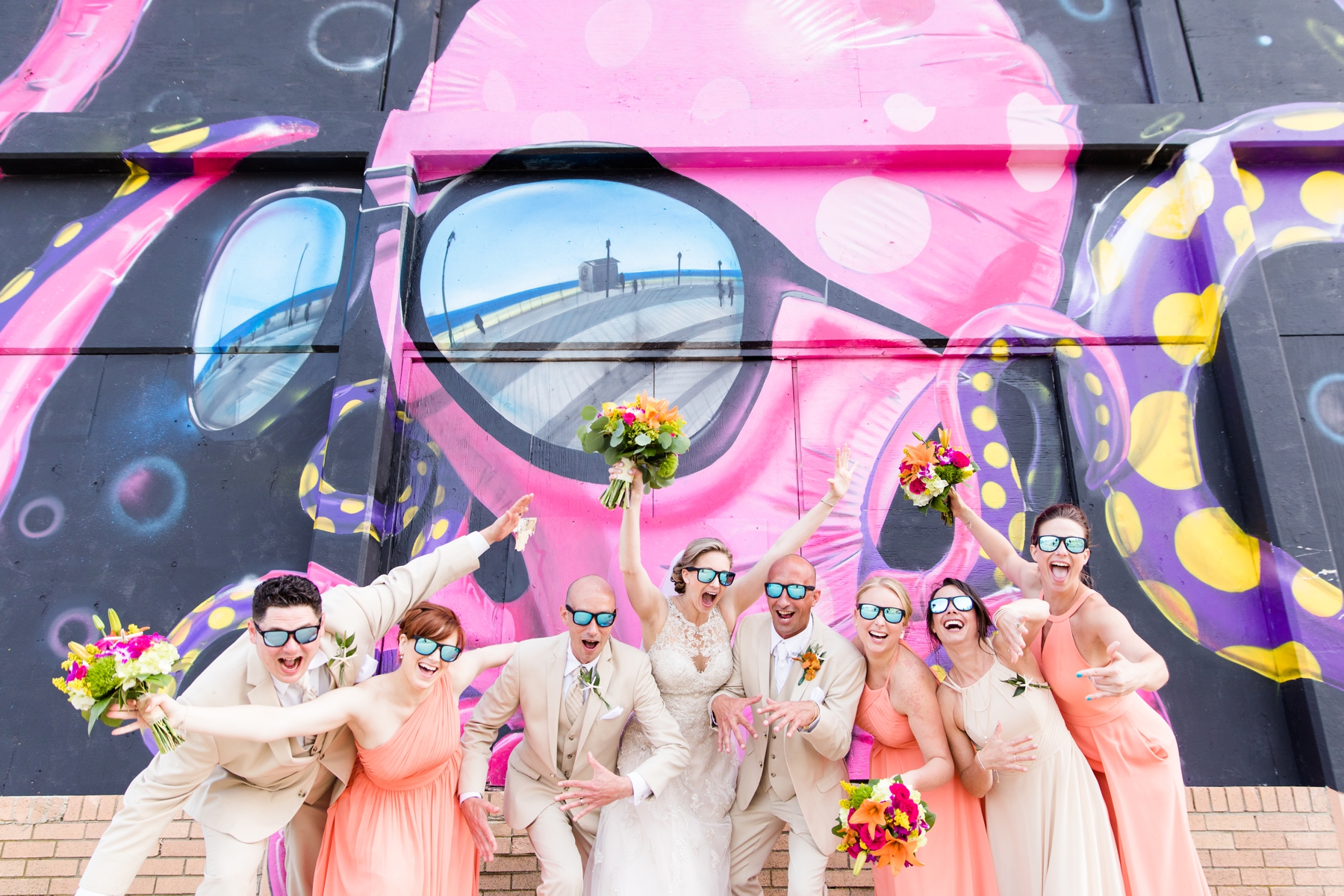 Meghan and Joe's wedding at the Berkeley Oceanfront Hotel was magical! I remember the day we did their engagement photography. The pair was so excited about their wedding day and filled with life. This special day couldn't have come sooner! They were so excited to have a beach wedding, because they both absolutely love the ocean and everything about it. During the engagement session I remember Meghan and Joe talking about wanting a laid back beach vibe type of wedding, with some formalities… and they sure had just that!
The day was here and Meghan was ready. She was filled with all sorts of emotions, excitement being her main feeling. Looking cute Meghan, her bridesmaids, and mother all wore matching oversized button down t-shirts that complimented the laid back beach theme Meghan and Joe had wanted. The girls were all smiles and happy cries as we photographed Meghan during bride prep. "Don't you do it. Don't you dare cry!" Meghan spoke up to her girls, she didn't want them crying because she would start crying. Meghan's makeup and hair was beautifully done by Hot Mess Studio. They did an amazing job getting everyone looking incredible!
Meghan had the best beachy details. Her wedding shoes were Kate Spade sparkly flip flops. I was in love! Meghan and Joe really took the whole beach theme and brought it to life. Her invitations were super cute and had a sunglasses design on them. With the ocean vibes still going, the flowers were colorful and incredible! They even had little seashell details within the arrangements. Wildflowers Florist did an impeccable job at channeling what Meghan and Joe wanted.
The girls got ready in their pale tangerine dresses, which complimented the ocean vibes, while Meghan got into her dress. What a sight to see. Meghan looked absolutely stunning. This beautiful dress from Say I Do Bridals fit Meghan perfectly. Her girls "Oooo'ed" and "Aww'ed" as she spun for everyone to see. "3, 2, 1. Hi Dad." Tears streamed down Meghan's mothers eyes as her husband saw their daughter in her wedding dress for the first time. Happiness filled the room. It was such an amazing and personal moment for Meghan and her father.
The bridesmaids and the bride went up to the roof to meet up with the groomsmen and the groom. The first sight Joe will have of Meghan in her wedding dress will be on the Berkeley Oceanfront Hotel rooftop looking over the ocean and boardwalk. This fit the couple's personalities so perfectly. Meghan smiled as Joe turned around to see her. "WOW!" Joe's eyes lit up as he saw his darling bride-to-be in her beautiful dress. He could not stop complimenting her, holding her, or looking at her. He was so excited, he picked her up and spun her around. This is what love looks like. After sharing this sweet moment with one another, we took some bridal portraits on the roof. What a fun and crazy group this bridal party was. They sure were ready to celebrate these two lovebirds and party!
The ceremony was right on the beach outside the venue. It was a sweet ceremony and the weather was perfect. After the ceremony we headed into the venue to celebrate the marriage between Meghan and Joe. Introductions were so fun with this group. Everyone was filled with energy and ready to just have fun with one another. Meghan and Joe shared a special dance on the dance floor that was later joined in by their bridal party and parents. The evening air was filled with love. Everyone surrounded the bride and groom as they danced and sang a long to the songs. Chris Marino of Limelight Entertainment  did an incredible job at keeping the party going all night! The guests expressions were so vibrant. Everyone had a really good time.
When sunset came, we just had to get Meghan and Joe outside for a few sunset photographs. We went to the lawn upfront of Convention Hall and stopped to admire the sunset. After a few quick photographs we went back inside to capture some dancing shots. Meghan and Joe pulled their bridesmaids outside for a fun champagne shot and WOW! this was an incredible moment. The bridesmaids cheered as Joe pulled the top off of the champagne bottle and it sprayed everywhere. Laughs and love filled the atmosphere. Meghan and Joe are such a great pair, their energy and happy-go-lucky vibes bring so much joy to the people around them.
Congratulations Meghan and Joe! You both are such loving people. May you always enjoy the ocean and sunsets.  Thank you for choosing Limelight Entertainment for your special day.