Aysha and Nick were absolutely adorable at their engagement session at Colonial Park! This fun-loving couple expressed their love with laughter and silly smiles in their photos. Colonial Park is THE PERFECT location for engagement photos for couples who love the outdoors, colorful flowers, and a serene well-manicured landscape. 

Aysha + Nick were excited to choose Colonial Park for their engagement session. The vibrant flowers and charming corners offered endless possibilities for capturing beautiful moments. Aysha and Nick also love the color green. So this played a huge part in choosing Colonial Park for their engagement photos. It will also be the color scheme of their wedding day!
** Colonial Park does require a photography permit

"Our favorite part of the engagement session was whispering secrets to each other and making one another laugh!" The couple shared, "Casey was so patient and kept giving us ideas like that to help us open up. She helped a lot with making the session fun and easy."

WE LOVE LOVE!!
"High school sweethearts finally getting their time to shine. We're still young so it took a while to get here but we've been happy the whole way and chose to do this forever. Even though it has been years together we're excited to start this new chapter in our lives." – Aysha and Nick
Proposal Alert:
"I was surprised with a trip on a helicopter around Baltimore, MD. It was the day of our 9-year anniversary! After we landed we went out to dinner at Ruth's Chris. We sat down at our table and Nick began telling me what he loves about me and how I made him feel the past 9 years of being together. Once he was done sharing his feelings, Nick got down on one knee and pulled out a ring and asked "Will you marry me?". I of course said 'YES!'" – Aysha gushed.
Aysha and Nick shared their special tree with us, and we captured this memory for them. This tree was carved by them 9 years ago with their initials when they first began dating back in high school! It is so special to them, and they were quite surprised it was still standing, even though a majority of the trees around it were cut down. If this isn't a sign of love's destiny, we don't know what is! HA! HA!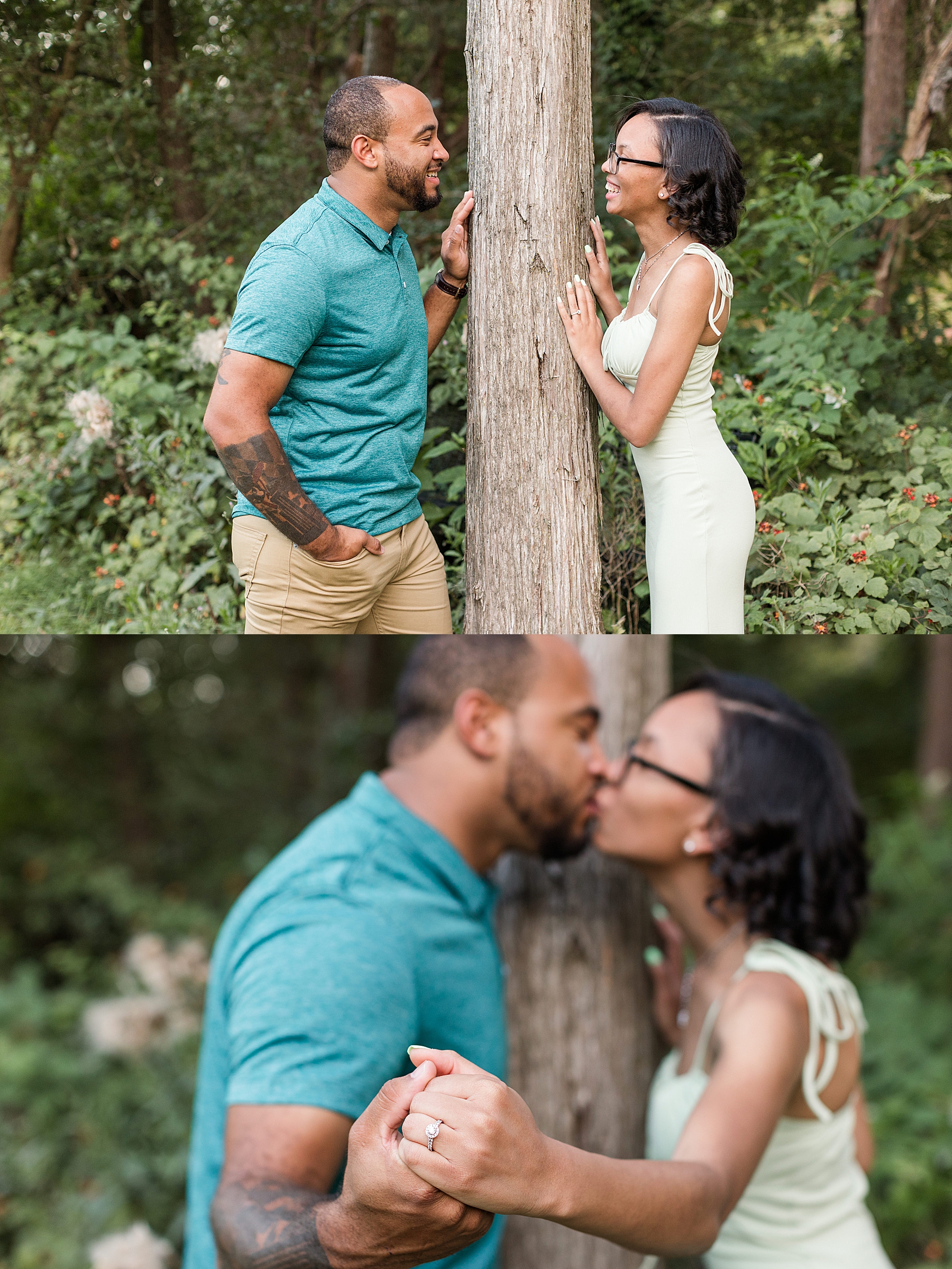 Thank you so much, Aysha and Nick, for sharing your love with us and giving us the opportunity to capture it. We are very excited about your wedding at The English Manor. See you next September!