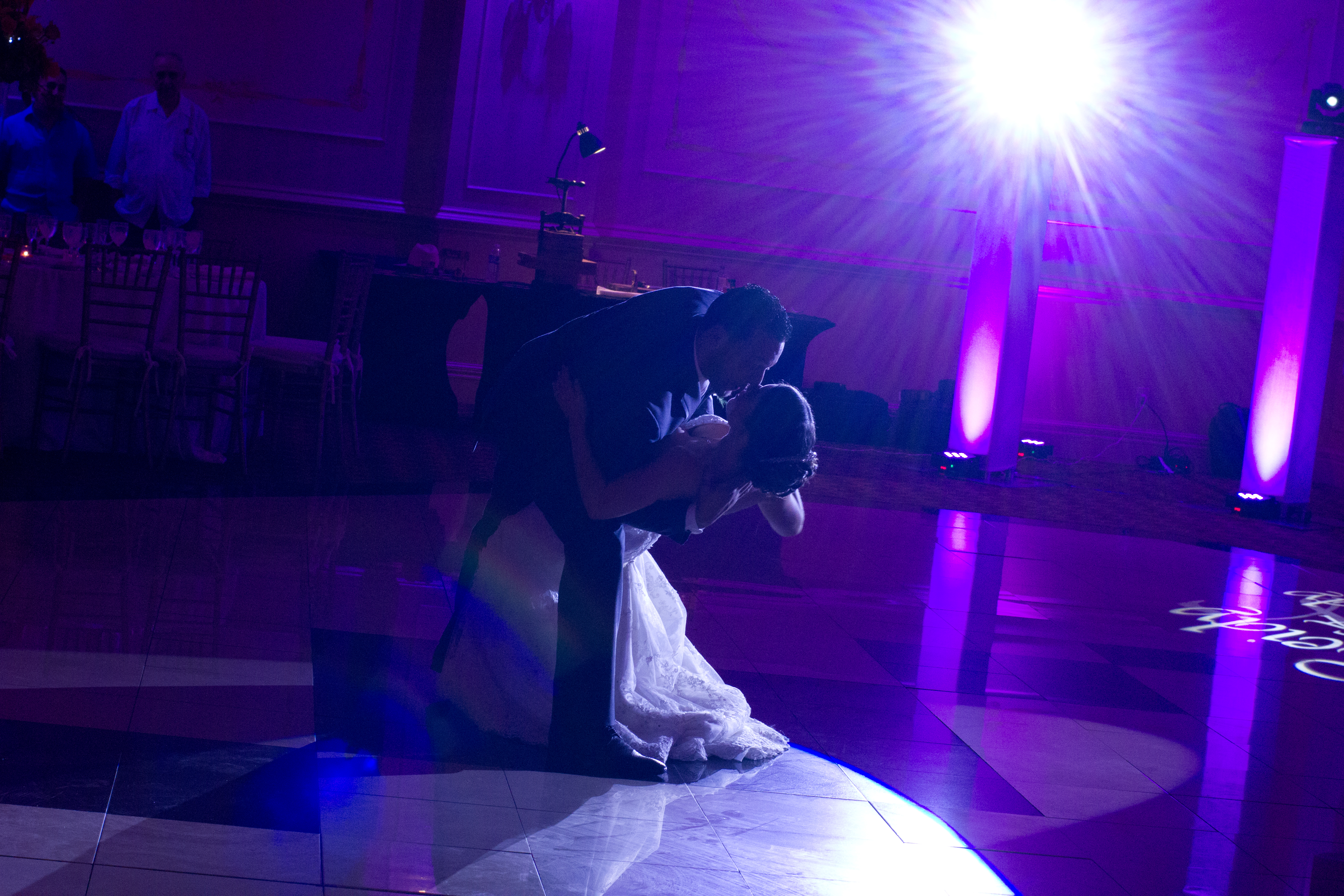 Just got done wrapping up yet another amazing weekend here at Limelight Entertainment. We closed out this past weekend celebrating Heidy and Andres NJ Wedding inside The Grand Ballroom at The Wilshire Grand Hotel of West Orange, NJ. This place is top notch, if you are looking for an amazing venue I would seriously consider it.
So back in June Heidy and Andres called me and said "Chris we are interested in your NJ Event Lighting and we want to bring our wedding to the next level. We want to turn the Grand Ballroom at The Wilshire Grand Hotel into our own personal night club, so what do we have to do?" Right then and there I knew that this couple was a lot of fun and wouldn't settle for anything less then the best. So the Limelight Entertainment team tossed around several options and designed Heidy and Andres the Event Lighting show for their NJ Wedding they have always dreamed of.
First we lined the entire room with our fully controlled wireless uplighting. The couple chose to light the room fuchsia, but just leaving the room one color is not fun enough in our books and they completely agreed. We needed to add some flair! As we had everyone up and dancing we were able to strobe, and even change the colors the uplighting around the room at the drop of the beat. This uplighting setup created such a fun and energetic environment all on its own that I noticed every time I would strobe the room the entire dance floor had their hands up and they were just all smiles! It looked truly amazing, and it was so great just watching Heidy, Andres and all of their guests really enjoying themselves.
To accompany the uplighting we set up four of our in house Intelligent Spot LED's we had on top of each of their own six and a half foot up lit truss towers. These lights were great for spotlighting the bridal party entrances, the bride and grooms first dance, cake cutting, speeches and any other important moments. These lights also create an amazing vibe on the dance floor as we controlled them to send color washes and patterns in every direction completely filling the room with color. This truly gave the wedding that Atlantic City/ NYC night club feel the couple was looking for.
The bride and groom also inquired about our custom gobo/monogram lighting. With this we designed a custom script that the couples name shined bright in a slow rotation on the dance floor. This added a nice classy tough, and really tied all of the NJ event lighting in as a nice center piece.
I am so glad that Limelight Entertainment could share and be a part of Heidy and Andres special day, I truly had an amazing time. If you are looking for wedding entertainment in NJ, NYC, or anywhere for that matter call us today. I would love to make your dreams come true!